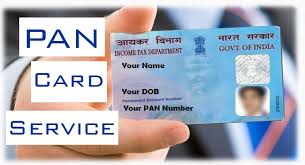 The word PAN is an abbreviation of Permanent Account Number. This is a unique identification code issued by the Income Tax Department of India. This particular number is used to track all income and expenses of a particular individual. This PAN number is directly linked to the Bank.

The PAN details are allotted by an individual in a laminated card which is known as the PAN Card.

Over the recent years especially after demonetization and more and more emphasis on cutting out the black money from the circulation it is very necessary that every citizen should have the PAN Card and should stay clean in terms of monetary business by showcasing the financial activities to the authority from time to time.

Pan Card Retailers
Pan Card is issued by the Income Tax Department of India through NSDL (National Security Depository Limited). National Security Depository Limited is a financial organization created to hold shares and bonds. Besides NSDL there is another organization UTIITSL (UTI Infrastructure Technology And Services Limited) which together authorizes and supervises the PAN Services in the country.

These two big organizations authorize several small offices that act as Pan Card Retailers in various regions. These small offices help citizens get their PAN Numbers as soon as possible. There are Pan Card Retailer Services all over India. These agents are regularly supervised and regulated by NSDL and UTIITSL.

The Process
Pan Card Centres are now present all over the country in a fairly good amount where several Pan Card centers are authorized and recognized both by NSDL and UTIITSL.

These Organisations are recognized by the NSDL and UTIITSL. Several agents who work under this organization who is also known as facilitators or retailers. The agents provide all valuable information regarding financial details as well as taxes. Joining in as a retailer is not that difficult. Anyone can be a Pan Card Retailer. To be a Pan Card Retailer there is a certain decorum that should be followed:

1. After joining as a Pan Card Retailer one should complete the Pan Card Retailer Registration Process
2. After the Registration the UTI PSA Login password will be generated.
3. A Pan Card Portal will open.
4. On that Portal Pan Card can be created for the customers.

This process is very smooth and easy to understand. No knowledge of high programming is needed to understand this simple process and any particular individual can join with an authenticate Pan Card Seller and can be a Retailer.

Pan Card also acts as a very important identity proof. To have a Pan Cardis essential just to show that the person is not evading taxes and is a responsible citizen. Paying Taxes is as essential as voting. Just like we are taught that voting rights are given to the citizens by the Constitution in that same way the citizens need to pay the taxes for the proper functioning of the state. Hence the citizen must acquire knowledge about creating a PAN Card and create it from the nearby PAN Card Office which is recognized by NSDL and UTIITSL.
This entry was posted on February, 24, 2021 at 11 : 36 am and is filed under Pan Card Retailer. You can follow any responses to this entry through the RSS 2.0 feed. You can leave a response from your own site.